Classically Current Luxury AtThe Boston Harbor Hotel
BEYOND COMPARE
As the waters of Boston Harbor give way to the city skyline, the iconic 60-foot stone archway of the Boston Harbor Hotel offers an entrée to the city unlike any other. Boston's only waterfront Forbes Five-Star and AAA Five-Diamond hotel is the essence of "classically current" luxury, welcoming guests arriving by land or sea to historic Rowes Wharf. The lobby interiors sweep you into an inviting home away from home, from the sophisticated yet comfortable furnishings and maritime color palettes to the marble flooring and unique flower arrangements.
All 232 guest rooms and suites offer striking views of the Boston cityscape or the waterfront and harbor. Luxuries that include a chic, private health club-style spa and fitness center, award-winning dining at Rowes Wharf Sea Grille and a full-service 34-slip marina ensure that your experience will always be Beyond Compare.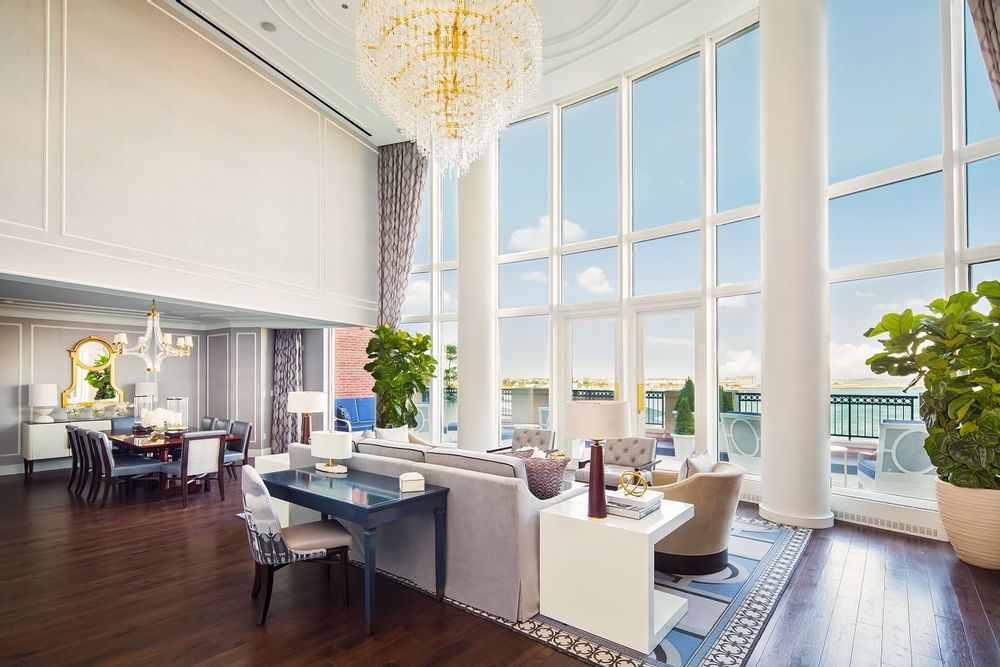 Rooms & Suites
Each of the Boston Harbor Hotel's beautifully designed, and thoughtfully decorated rooms and suites is inspired by our waterfront setting on Boston's historic Rowes Wharf. Reflecting an eye for detail, a room here is like no other hotel room in Boston. Step inside and you're immediately greeted by lush fabrics, sophisticated coastal color tones, rich woods and spectacular skyline or harbor views matched with modern comforts.
Upcoming Events
Before you arrive, find out about upcoming special events at the hotel and around Boston, including holiday celebrations, restaurant events and local festivals.
Inquires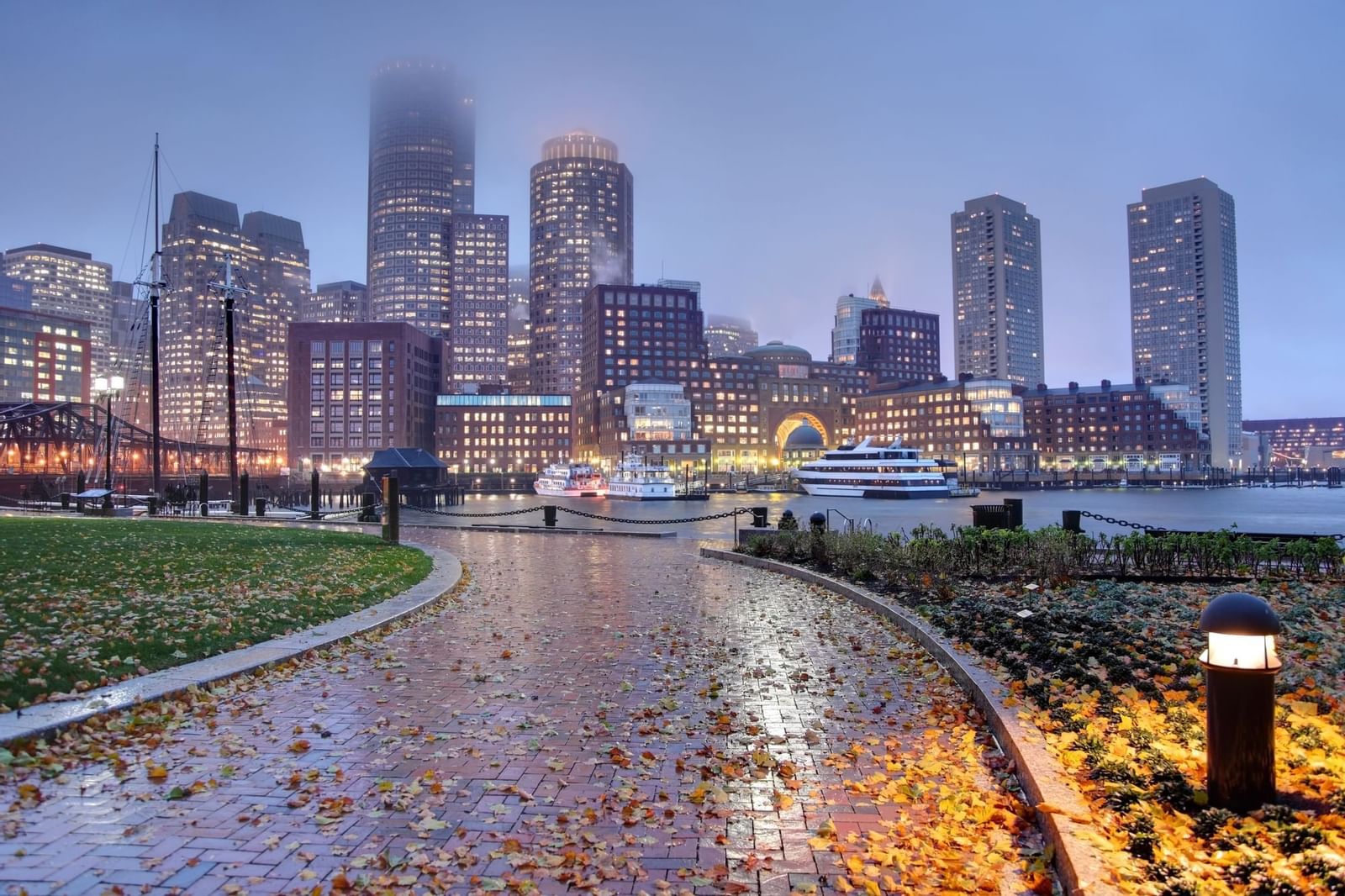 Way Beyond Expectations!
I have been fortunate enough to stay at some of the nicest hotels around. I'm rarely surprised by how good the service somewhere is, but they did, indeed, surprise me. It was a wonderful, pampering experience, and I can't wait to go back.
- Laura N, San Francisco, California
A Grand Success!
Nathan and all the staff of concierge were EXCEPTIONAL. Their recommendations and guidance and assistance with bookings, reservations, etc., literally made our stay/trip a grand success. Many thanks to all in concierge.
- Timothy & Susan N , Panama City Beach, Florida
Beyond expectations!!
I just want to say that this is hands down the best hotel we've stayed at. The staff is amazing and went above and beyond our expectations. The food and facilities are hands down awesome! The views are amazing, the location is perfect. Very safe area. Close to everything you want to see and all attractions. You get what you pay for that's for sure and more!' Must stay at this hotel. You can't get any better than this.
- Henry , Mentor Ohio
Magnificent Service!
We visited this hotel for our anniversary. When staff found out, they upgraded our room and placed champagne in our room that evening. We had a wonderful 4 night stay! Very friendly staff from doormen to house staff! The waitress in the bar even brought out picture books of boston so we could plan our next day around the historic city! We were offered excellent dining suggestions and maps to help guide us to the right spots! Every person went out of their way to help make it a wonderful stay!
- John Matthew H
Perfect Location for Business!
It's a great hotel but even better, it's a short 8 minute walk from the train at South Station and then another short walk to get to any of the financial buildings around State Street. Plenty of easy places to eat all around it and the staff was great, they gave me an upgrade without my asking, room service was prompt and delicious, and for once it was a hotel where the wifi was free and fast. I would definitely stay here again as my first choice.
- welltraveled18 , Larchmont, New York
Wonderful Hotel
We have stayed at several hotels in Boston over the years. I enjoy trying new hotels, but after the last two weekends staying at The Boston Harbor Hotel, I won't ever stay any place else. The staff was amazing. The hotel beautiful and the milk and cookies/cupcakes in our room daily were delicious. The staff went above and beyond multiple times. They forwarded a Federal Express package for me, surprised us with fruit in our room one evening, and our waiter John was able to get me a lobster roll for breakfast one morning. Truly a fantastic place with people who make a difference in your hotel experience!
- Annevet , Orlando
Beyond exceptional!!
This hotel is beyond exceptional! Spacious, luxurious suites with beautiful views! The staff truly went Above and beyond to ensure our comfort and that we had everything we needed! My husband and I stayed here with out twin 1 year olds and upon arrival they greeted us with a basket full of teddies and gifted them each with one of their choosing! Room service, turn down service, they even provided us with Delicious complimentary cupcakes and milk for the twins each evening before bed. Felt a bit like royalty staying here! Cannot fault it at all! And you can catch a ferry from
The airport to the hotel dock! Now that's special!!!!!
- Courtney
Amazing location, views & service!
We had a connecting room with Harbor Views on the 15th floor. It was spacious and the view was fantastic. Housekeeping was wonderful; the room was very clean and their turn down service with slippers and bottles of water was a wonderful way to end the day. They even provided milk & cookies for the kids as part of their family package! The hotel was perfectly situated on the harbor, great for an evening stroll or to walk down to the Aquarium or Faneuil Hall area.The Sea Grill Restaurant had a nice buffet breakfast and the staff was lovely. The bar lounge, Rowe's Wharf, was a great place to get a drink in the evening with prompt service. Everyone from check in desk to the bell staff was friendly and accomodating. A five star experience!
- DeborahNY1
Luxury on Boston Harbor!
We have been coming to the Boston Harbor Hotel for at least a decade and a half. There are many lovely hotels in Boston, but this one remains my favorite for many reasons (water views, beautiful traditional furnishings, great staff, good food, etc.). On our last trip to Boston, we came with guests, one of whom was new to the hotel and the city of Boston. Needless to say, she was enchanted by her room with a view of Boston Harbor and the hotel's dramatic setting on the water. I want to thank the staff because they honored my request for adjoining rooms in a particular part of the hotel, which made our last stay convenient and more special. The Boston Harbor Hotel never disappoints!!
- Corinne T